Pre-season Engineering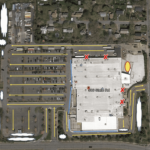 We offer services on several types of contract styles. A seasonal contract (fixed cost) basis for clients that have target budgets and wish to operate on a not to exceed budget for the season and simplified billing.  A per/inch contract (variable cost) which allows for clients to pay as it snows throughout the winter depending on the number of inches and spreading of deicing materials. Rate work contracts are billed on a per/hour rate for equipment and man labor and per ton for ice control. Managing the risk inherent with snow and ice management services encompasses a series of pro-active steps prior to the occurrence of winter events, during actual events, and after events occurrence.
We work diligently to reduce your costs and manage the risk. We understand what it takes to handle the worst New England winters. While the right people and proper equipment are crucial to a successful operation, it begins with advanced planning and management control systems. Prior to the winter season, we visit each property to inspect the site, performing a detailed pre-season inspection, photographing key areas, and beginning to lay the foundation for a snow response plan. We then utilize web-based technology to prepare an image of the site, overlaid with information for the placement of snow piles, priority areas, and special instructions. We ensure that a unique strategy is developed for each property, including the assignment of required equipment, operators, sidewalk personnel, materials, and supervision. This allows all our team members to arrive on site and know what needs to be accomplished. We work diligently to manage your risk, reduce your target budgets & increase our level of service.
Snow Plowing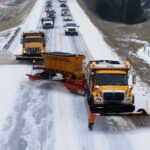 We allocate the best equipment and attachments most appropriate to meet the specific needs of each property that we service. Our fleet of heavy equipment with push boxes to trucks outfitted with v-plows & salters will clear your property efficiently, down to the very last inch. Our equipment is professionally maintained to minimize downtime and increase our level of service. Our team of seasoned operators and shovelers are trained and ready.
Our operators work from detailed client-specific site maps showing all areas to be cleared, unique property conditions, client notes, and snow pile locations. Each team members uses an app logging in and out of properties to provide a detailed report of location, date of visit, and time spent on the site. Our operators and clients receive updated weather reports while in the field and have 24/7 access to a live call in center during storms.
Snow Shoveling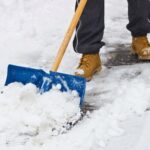 Ensuring safe access to pedestrian walkways, steps, handicap ramps, and building entrances correlate to a reduction of slip-and-fall accidents. While many of our competitors shy away from providing sidewalk clearing services, we recognize that such services are essential to a comprehensive maintenance program and have invested heavily in this area. We utilize dedicated sidewalk personnel who have received extensive training, site-specific instruction, and are supervised by an on-site sidewalk captain. We have invested in specialized equipment and machines for sidewalks including walk-behind spreaders, snow-caster shovels, and sidewalk machines.
Ice Control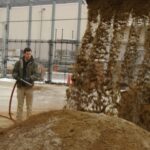 We have a proactive approach to ice control, including pre-treatment, water management for refreeze, site monitoring, and post snow event inspections. We are committed to protecting our environment and are continually seeking improvements in our processes and products. We use salt that has been treated with a magnesium chloride liquid, which is more effective in lower temperatures, less corrosive and has a much better residual effect. We are committed to using Eco friendly ice melt, less harmful your plantings, safe for your family pets, and works to sub-zero temperatures. Also, our liquid de-icing system works excellent on those New England ice storms.
Snow Removal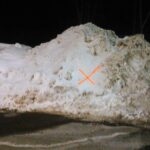 Many properties require snow to be hauled on site to a snow storage location while others require snow to be removed from the site to maintain safety and adequate parking. Depending on the scope of work, hauling is typically performed after the snow event, we begin hauling during the snow event keeping your property cleaner & safer while reducing your snow removal budgets. Parking decks and garages are often constructed with snow gates to dump accumulated snow from the deck to the ground below to reduce weight on the deck surface and maintain parking.
Roof Clearing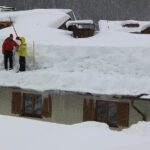 Winters can be a tough time for your roof. When heavy snow accumulates on your roof, its weight causes your roof a great deal of stress. A novice snow removal team will not understand the complexities and hazards on your roof and can do more harm to your roof than good. The steps we take to ensure the structure is safe for all including underdeck inspection looks for deflection. We place flag markers to identify skylights and other projections, provide clear passage to all drains, clear all roof units, vents and gutters paying special attention to drifting snow (parapet and firewalls, penthouses and elevation changes).
Snow Melting
Snow Melters are essential when dealing with large storms and extreme weather conditions.
The more time and fuel you expend on snow and ice management, the more it costs. A snow melter can save as much as 30-40% compared to the cost of traditional hauling operations. Your facility can remain secure, operational and you can eliminate the hassle of looking for places to pile up snow. You could diversify your business, or simply manage varied snow removal operations more efficiently.
Loader & Skid Steer Service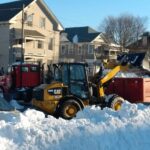 Dig, push or haul dirt, debris and any heavy lifting needed we can handle it. Skid steers and compact loaders can produce a lot of work in smaller worksites.  We have the equipment and operators for any type of site work, demo, stumping, material handling, grading, etc.