Maintaining a commercial roof is an integral part of caring for your building. The same way you check and repair plumbing leakages as soon as they happen, the top of the building needs ongoing inspections and repairs.
Often, though, high-rise commercial buildings seem to have more pressing maintenance needs than caring for the roof. Why? It protects the interiors from rain, snow, dust, etc. Commercial roof maintenance should start right after installation. These tips can keep your roof up and presentable longer.
Schedule Inspection: Inspect the roofing twice a year, once at the very least. Checking the roof for warning signs can prevent a disaster. Remember this part of the building weather storms, sunshine, rain, wind, hurricanes, etc. It is only fair that you keep it functional. Inspections can reveal leakages, rots, mold, and wear and tear before it's too late. Even when the roof seems perfect, it's best to look up close.

Clean the Roof Regularly: Keeping the roof free of debris can increase its lifespan. The collected dirt can cause rotting, mold, and algae if left unaddressed. Therefore, you should schedule regular cleaning between inspections to keep the roof stronger for longer.
Fix Damages Immediately: Missing whole shingles or shingle granules can cause leakages. Leakages damage not only the roof but also the building interiors, electrical equipment, and furniture. Therefore, you should fix even the tiniest leaks as soon as you notice them.

Stay Away From the Roof: While inspection and cleaning are essential, unnecessarily walking on the roof can cause damage. If you don't have the expertise, ask a professional to help. Experienced roofers take care not to cause damage when working on the roof.

Spot Check After Bad Storms: After severe weather, in addition to the routine inspections that are performed, check to see that the roof is in excellent shape. It's possible that high winds, hail, or snow may pose further difficulties throughout the storm. Therefore, even if it was cleaned the day before, you should still get it checked over just to be safe.

Keep the Drains Flowing: It's possible for the drainage system to get blocked up with dead leaves and other garbage. The dirt might potentially cause the pipes and gutters to get blocked. Take note that you need to remove them. In order to ensure that there is enough drainage at all times, it is necessary to repair any cracks or leaks that may exist in the drainage system.
Remove Snow: The roof is not designed to carry weight. And although snow looks flaky and light, the weight can quickly add up when it snows heavily. It could cave in if the weight stays on it for too long. It's advisable to arrange for snow removal as often as possible during the winter months.
The appeal of trees in close proximity to buildings makes it simple for people to overlook the damage they do to roofs. The development of algae is encouraged by overhanging branches because they block off light. Additionally, there is the possibility of seeds and branches dropping off the tree. It is important to prune the branches of nearby trees on a regular basis in order to keep them under control.
How to Choose a Commercial Roofing Contractor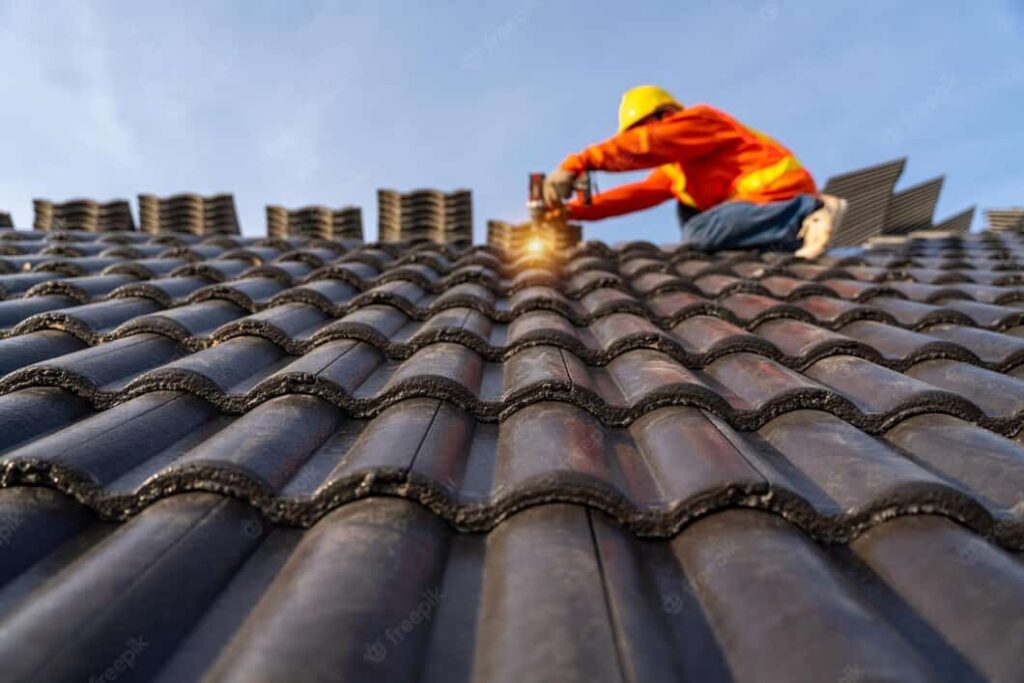 You need a roofing contractor who knows their trade to construct and maintain it. You cannot compromise on quality if you want your investment to last. But quality doesn't have to be too expensive.
You can get recommendations by asking around. However, it's necessary to do your due diligence to be sure. If you are looking for someone to keep your commercial roof in good condition the longest, make sure they are:

Experienced: Ask yourself, "Have these guys worked on a commercial roof before? Do they have experience with my type of roof?" Ask for references or to see previous and current maintenance they're handling.

Insured: The last thing you want is someone messing your roof with no backup plan. Having insurance means you're safe in case of mishaps.

Willing to give estimate quotations: You need to know how much roof construction and maintenance will cost you. Find a contractor who can provide estimates beforehand, so you're ready.
Licensed: Not anyone who says they are a roofer has the required license. Find one who does. Also, they should have permission to work in your area. That's the only way you can be sure they'll follow the outlined regulations and build a roof that meets your location's needs.
Roof Services
A commercial roof maintenance contractor provides the following services:
Installation and replacement
Inspections
Cleaning and snow shoveling
Damage repairs
Insulation
Waterproofing and sealing
Painting and more
Ask your roofer for any additional services they offer.
For commercial roof installations and ongoing maintenance, reach out to G. McNeil & Son. We are the partner your building needs for its roof to survive for generations.