An unexpected snowstorm disrupting your natural and synthetic surfaces in a sports complex is the last thing you need to worry about. Managing a sports complex is a challenging enough task by itself. Professional snow and ice removalists should be tasked with removing wintry obstacles that hamper the entrances to sports facilities and the access of athletes, spectators, and staff.
Snow Removal on Synthetic Surfaces
Snow accumulations can pose a unique challenge on synthetic turf. Having a plan and being prepared for these situations alleviates the stressful burden of scrambling to figure out a plan after the fact.
The largest problem with maintaining an artificial turf field in the late fall or preparing it for practices and games in the early spring is unpredictable weather, which frequently means having to deal with the difficulty of removing snow from an artificial turf field.
The methods you use for snow removal, and the systems you put in place as a manager of a synthetic turf field can prevent many problems in the future. As you begin creating your snow removal plan, there are some questions you'll need to consider while planning for snow removal. To guide you through the procedure, bear the following in mind:
Knowing the answers to these questions will help you put a sound plan in place for clearing snow while ensuring your investment in your artificial turf field is safeguarded.
What amount of snow is expected to fall?
How much snow has gathered so far?
Is it heavy and wet snow, or light and powdery snow?
How soon must the artificial turf surface be used?
What is required of field users?
Is there a broad area where the snow can be pushed, or is there a small, constrained area where the snow must be removed? What are the space restrictions for the artificial turf field area?
Will melting be possible during the midday temperatures?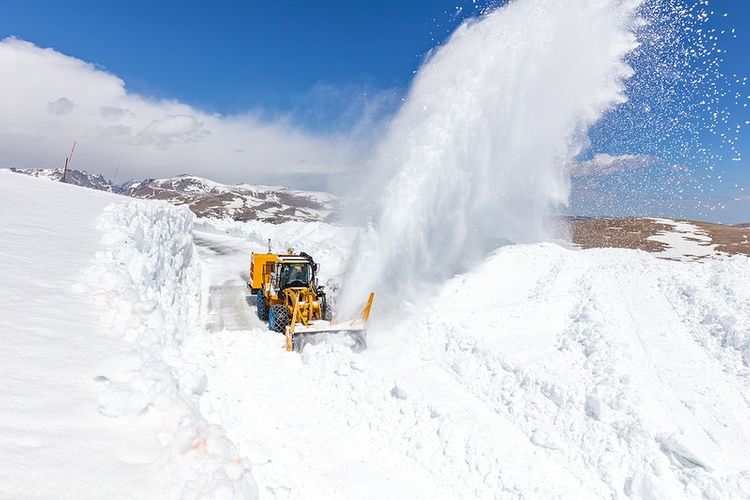 The Best Methods for Clearing Your Field of Snow
Snow can be cleared most effectively with a motorized snow blower on a small tractor equipped with turf tires. Be warned that while clearing the snow, vehicles with non-pneumatic tires or tires inflated to at least 35 psi are required.
If the snow plow includes a rubber-edged blade, it can also be placed on a tractor. When lowering the blade, leave 1-2″ between the rubber bottom and the lawn to prevent disturbing the infill.
Never allow the tires to spin, and always take particular care to ensure that the depth of any mechanical device intended for snow removal is set correctly to prevent gouging or ripping the synthetic turf field surface.
Due to the height of the blade, some snow may remain on your artificial turf even after the plow has passed over it. The remaining snow will melt when the temperature rises or the sun emerges.
Snow and ice can also be chemically melted, although only the non-corrosive calcium chloride is advised.
After the snow has melted, walk across the artificial grass to check for low infill areas. Before any action occurs, touch up such areas with a round of infill.
Recommendations To Follow Before Clearing the Snow
Contact our team before you start clearing the snow from your field to discuss any snow removal plans and how they might affect your warranty.
Remember that any harm to the artificial turf during the snow removal, like a ripped seam, may require repair expenses.
Verify the drains in and around your land. To prevent all the melting snow or ice from the lawn, ensure it is free of obstructions.
Snow Removal on Natural Surfaces
Season and temperature greatly impact turfgrass plants and the soil environment. Although the ground might not be completely frozen in the fall, a sports field may sustain significant damage if snow accumulations are removed from the unfrozen ground. There is less likelihood of field damage from clearing snow if turfgrass plants have had time to harden off, the soil has frozen, and temperatures have steadily fallen.
A thick layer of snow is the optimum situation to ensure turfgrass survival on a field if it is not used during winter by shielding the crowns from chilly temperatures. If there is no ice in the area, let nature decide how much snow will cover the ground.
The field's perimeter can be cleared to create a passage or channel that will allow water from melting snow to drain off the surface and aid in snowmelt. Once the snow melts, turfgrass managers may discover snow mold formation on fields covered in snow for a long time.
The best way to prevent potential delays to winter sports and damage to your field is to have a plan before the snow starts to fall. With G. McNeill and Son's snow and ice removal services, you'll be able to keep your sports complex accessible all winter long and during the sports season.
Learn more on how to melt ice without salt or how to melt ice on driveway to keep everyone safe throughout the winter months.