Roof ventilation permits air to circulate through the attic space and escape the roof vents. Roof vents that are properly fitted help keep the roof from overheating. They also keep condensation from forming. When the roof overheats or moisture accumulates, it can cause significant damage or health problems.
Part of our property maintenance solutions is knowing how to install roof vent options for both homes and business buildings. Here are some answers to commonly asked roof vent installation questions.
Where Should Roof Vents Be Installed?
Vents should be placed close to or on the ridge. When roof vents are utilized alone, just a tiny volume of air near the vents is moved. As a general guideline, half of the venting should be located at or near the roofline and the other half at or near the ridge.
To find the correct roof vent, you must first calculate the exact size of your roof. This will allow you or your contractor to estimate the number of vents required based on the size of the top and the sort of vents you desire.
How Many Roof Vents Should You Have?
This is dependent on the size of your attic. The conventional basic rule is to install one vent for every 300 square feet of attic space. If not, one vent should be installed for every 150 square feet of space. For every 150 square feet of attic space, 1 square foot of vent area is required.
The net free area rating (NFA) indicates the amount of space that each vent covers. However, if your roof has a slope of more than 6:12, the volume in your attic will be greater than the actual square footage. This means you'll need more than one roof vent every 150 square feet.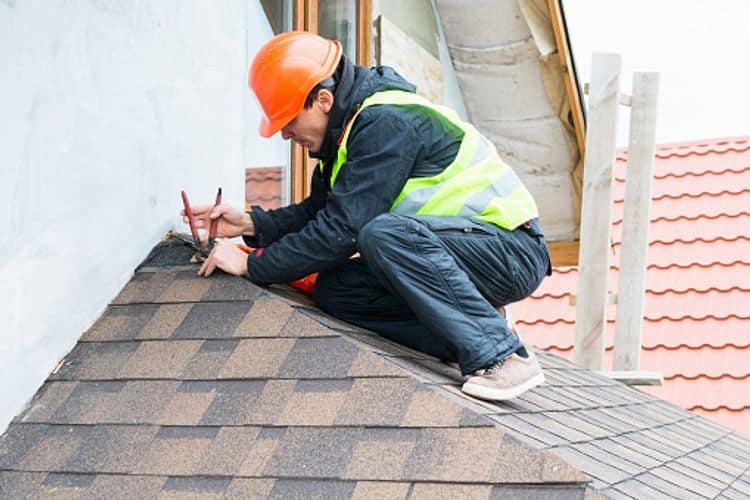 What Type of Roof Vents are Best?
This is dependent on the size of your attic. They are divided into passive and motorized, with three different types of passive vents. This means that a trained roofing contractor can provide you with four air vent options, each with its own set of benefits and drawbacks. Here's everything you need to know about each of the four options:
Ridge Vents
Ridge vents are a popular choice for both modest homes and larger properties. They use a sophisticated mechanism to ensure that air is the only thing that enters the roof, keeping bugs and other materials at bay. Ridge vents are excellent for preventing mildew and humidity in the attic.
Pros
Ridge vents are a combination of multiple standard roof vents.
They ensure a uniform distribution of heat for a more comfortable living environment.
Cons
They are a little more costly than other possibilities.
Installing them may take a little longer.
You may need to put them at every roof peak for optimum results.
Roof Turbine Vents
Roof turbine vents, also known as metal pot vents or roof exhaust fans, evacuate hundreds of cubic feet of air every minute with huge revolving blades. Given the airflow rate, it's critical to keep the soffits free so that new air can enter the roof at the same rate as it leaves. The finest option is aluminum solutions with greased ball bearings.
Pros
Extracts a large amount of air in a short length of time
They can provide years of dependable service if properly maintained
Some of the alternatives are more expensive
Cons
The noise can be bothersome if you haven't greased the ball bearings
They're quite large and protrude from the roof
Low Profile Roof Vents
Low-profile roof vents, also known as louvered vents, are the most prevalent solution and may be found as part of the roof ventilation system. They're normally placed towards the back of the house to hide their presence, although homeowners will need to install additional vents. Their job is to draw air from a specific location, which is why multiple vents are required on a single roof.
Pros
Installation is relatively inexpensive.
Low-profile roof vents come in a variety of colors to complement your roof.
If one fails, the others will continue to function to provide relief.
Cons
Unlike other solutions, there are no guarantees of uniform ventilation.
Their clout is extremely limited.
Large roofs may require more than a dozen vents, which are difficult to overlook.
Electric & Solar-Powered Roof Vents
Active roof vents extract hot air quickly, but electric options rely on electricity and solar-powered options are dependent on Mother Nature. They're most effective when the roof is completely sealed; if it isn't, conditioned air may be sucked out as well. Active roof vents are becoming increasingly popular as a means of lowering monthly utility expenses.
Pros
An environmentally responsible option, especially solar-powered solutions
Work more quickly than some of the passive options
In most cases, only one answer is required
Cons
Electricity or sunshine concerns may cause a temporary fault
A leaky roof can harm the efficiency of a vent
On the roof, they stand out
Vents are an essential component of a building's roofing system and ensuring that they are properly fitted is an investment you will not regret. You can never have too many vents, but not having enough is a risk you should avoid.
At G. McNeill & Son, we know how to install roof vents with cutting-edge equipment and high-quality materials while providing quality services to our clients. As part of ensuring accuracy and quality on your property, our equipment is kept current and presentable as we go through your roof vent installation.