If you live in Boston, Massachusetts, in areas prone to freezing temperatures and heavy snowfall, removing snow and ice quickly is essential to your business. Failing to clear snow slows down operations, causes property damage and even severe injury. There is no room for error in snow and ice management. It would help if your parking lots and walkways were snow-free & safe all winter.
Our commercial snow removal company in the Boston MA area will dispatch experienced and reliable crews as soon as you need them – before, during & after a snow event. When you have multiple business locations, you need a partner that considers each property's unique needs and characteristics. We work with facilities, teams & property managers to help provide a custom maintenance plan for each site in your portfolio.
Snow Removal Services in Boston MA
For customers to access your business, pathways, entrances & exits should be snow-free. You should also make it easy for them to park their cars. Our team of experienced snow removal professionals can quickly clear your parking lot and sidewalks to ensure your customers can safely walk or drive to reach you.
Snow Plow Service in Boston MA
We assign the best equipment and accessories to each property we service based on their requirements. Our heavy equipment fleet, which includes anything from push boxes to trucks equipped with v-plows and salters, can quickly clear your land to the last inch. To reduce downtime and improve our quality of service, we regularly maintain our equipment. Our crew of experienced plow operators is ready to meet your business snow removal needs.
Our teams operate from precise client-specific site maps that identify all areas that need snow clearing, as well as any exceptional property circumstances, client remarks, and snow pile locations. Each team member logs in and out of properties using an app, which provides a complete record of the site, visit date, and time spent on the property.
Shoveling Snow in Boston
Snow removal requires boots on the ground, which is why our team is ready to handle jobs that require both man and machine power. Whether it's a tight space or a delicate area that needs a more detail-focused approach, G. McNeil & Son's commercial snow removal team will ensure it remains clear and safe during the winter.
Our operators work from detailed client-specific site maps showing all areas needing clearing, unique property conditions, client notes, and snow pile locations. Each team member uses an app logging in and out of properties to provide a detailed report of place, date of visit, and time spent on the site. Our operators and clients receive updated weather reports while in the field and have 24/7 access to a live call-in center during storms.
As a property owner in the Boston MA area, you must clear snow, sleet & ice from all sidewalks and curb ramps next to your property. Never push or shovel snow into the street. If you do, the city may levy a fine against you.
Please consider hiring a professional snow removal provider to clear ice and snow from your roof if you are elderly, disabled or have a heart problem. Ice and heights may be deadly hazards when combined.
Other Commercial Snow Removal Services
In addition to the above two offerings, we can also help you with the following needs:
Pre-season assessment & engineering, which is important to manage your risks to ensure your property can handle the worst of the New England winters. Besides the right personnel and equipment, advanced planning and management control systems are critical to a successful operation.
Ice control, with a proactive approach focusing on being environmentally friendly while being safe for people & pets
Roof clearing to help make sure that the weight of snow accumulation doesn't damage the structure of your building while taking skylights & other projections into account
Snow melting, a money-saving way to keep your facilities safe & operational
Loader & skid steer service to dig, push and/or move any debris needed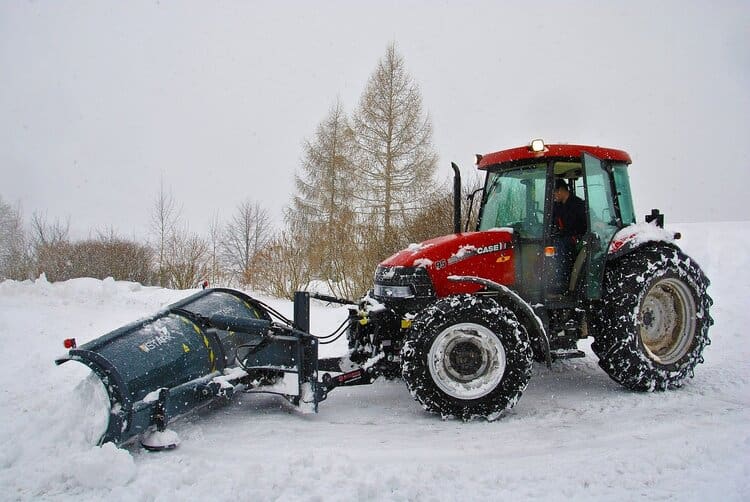 Benefits of Snow Removal Services in Boston MA
Property maintenance can be time-consuming for a business owner. When a snowstorm occurs, you must clear the snow as soon as possible so that customers and employees may safely access the parking lot, steps & walkways. A single slip on a slick, snow-covered sidewalk can cause a slew of nasty (and costly) liability issues. While it may tempt you to do snow removal on your own, there are many advantages to hiring a professional snow removal service.
Liability
Commercial snow removal services lessen the danger and responsibility associated with ice & snow accidents. The number of lawsuits filed against firms has reached an all-time high.
Reducing insurance liability keeps your company "out of the clear" of any costly lawsuits that can arise from snow accidents.
Equipment
Snow removal can be safe, swift & efficient with the right equipment and experienced personnel. You won't have to gain any of your equipment because we'll take care of everything. You rest easy knowing that plowing is complete and your property safe from damages and accidents.
Pricing
Snow management packages are available at reasonable prices. Seasonal, per inch, and hour packages are available for one or many sites. Pricing depends on your company's requirements and is fully adjustable.
Most commercial properties that have attempted to handle their snow removal in the past have discovered that hiring specialists is less expensive than maintaining their equipment, salt & shovels.
Peace of Mind
When you come the morning after an overnight snowstorm, we will have cleared your property off snow and ice in a timely and professional manner. Even in the worst of winters, a commercial snow removal company is always ready to ensure that your business is fully operating.
Boston's winters can be severe. Snow and ice buildup at your commercial building can be a safety threat, and if an accident occurs, the victim might sue you for damages.
You need a snow removal partner you can trust to get you out of trouble when you need it the most. This is where we can help. Click here to request a free commercial snow removal estimate!