Both asphalt and concrete are incredibly durable, so each makes a great, long-lasting material for a parking lot. But how do the two hold up against one another when it comes to parking lot repair and maintenance? Keep reading to find out how to repair and maintain both asphalt and concrete parking lots.
Asphalt Parking Lot Repair
Asphalt tends to be easier to repair than concrete. However, repairing an asphalt parking lot is a big investment of money and time, so it's essential to get it right.
How to Asphalt a Parking Lot
When it comes to repairing your asphalt parking lot, it's always best to leave the work to the professionals. Your first step is to choose a reputable contractor to complete the project.
Any reliable contractor will know that paving on top of damaged asphalt or a soft surface can be a bad idea, as the asphalt will likely fail, and any cracks that the new asphalt covered up will reappear within a couple of years.
To properly repair an asphalt parking lot, any existing asphalt usually needs to be removed from the damaged areas down to the subgrade so that it can be inspected. This process usually requires professional heavy machinery.
After they've inspected your parking lot for damage, your contractor will then take the following steps to repair your asphalt parking lot:
Milling of the existing surface
Installing grading & base materials
Installing new asphalt
Compacting the new asphalt
Remarking the pavement
When properly cared for with preventative maintenance, an asphalt parking lot can last decades.
How often should you sealcoat an asphalt parking lot?
You should sealcoat an asphalt parking lot within 12 to 18 months of the asphalt's installation. Sealcoating within this time frame ensures you will seal in the essential binder of the hot mix asphalt, which helps hold the stone & sand together. This way, your asphalt parking lot will be smooth and easy to clean. After you've sealcoated your asphalt parking lot the first time, you should continue to sealcoat it every three to five years.
How many inches of asphalt for a parking lot?
Commercial asphalt parking lots are typically paved in two layers, allowing for proper compression and the use of different grades of asphalt relative to the intended purpose of each layer. Generally, asphalt parking lots are around two inches thick.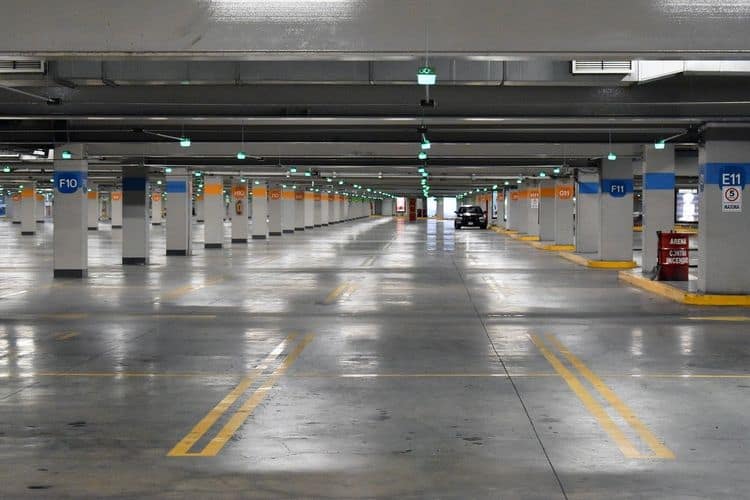 Concrete Parking Lot Maintenance
Although asphalt may be easier to repair, concrete may have a longer lifespan and can be lower maintenance than asphalt. But, like asphalt, concrete requires some preventative maintenance every three to five years.
How to Clean a Concrete Parking Lot
Surprisingly, a soda like cola and dishwashing liquid together make a powerful concrete cleaner that can eliminate grease stains on concrete. First, pour soda onto the desired area and let it soak overnight. Next, scrub the area with warm water and dishwashing liquid the next day. Create a lather by scrubbing with a nylon brush, and the stain should lift easily.
How to Repair a Concrete Parking Lot
Because concrete is a less flexible material than asphalt, concrete is bound to crack at some point. Additionally, exposure to the elements, such as oxidation from the sun, rain & snow, and freezing & thawing can cause a concrete parking lot to deteriorate.
It's important to seal cracks in concrete as they develop. Using a sealant to fill in cracks can prevent the damage from worsening and prevent failures like "alligatoring" or potholes by limiting the amount of water entering the cracks. In fact, your parking lot maintenance plan should include yearly crack sealing to avoid costly damage and save you money long term.
What are the concrete things in parking lots called?
We're all familiar with the concrete slabs in parking lots. But it turns out they don't have a universal name. They can be referred to as parking blocks, parking stops, curb stops and more. In any case, they exist to indicate how far a vehicle can pull into a parking space in order to prevent drivers from bumping into walls or other cars.
Takeaways
Preventative maintenance is key with both asphalt and concrete parking lots. To keep your parking lot looking and functioning its best, be sure to hire a reputable contractor to keep on top of damage like cracks and potholes and maintenance like seal coating.
With proper installation and maintenance, both asphalt and concrete parking lots can last you 20 or even 30 years.