Commercial Snow Removal Preparation for the Holiday Season
What are your winter preparations? Does your plow work properly? Are you planning to contract for snow removal and parking lot sweeping? What about salt and sand deliveries? It's too costly not to prepare. An accident may occur if you leave your snow removal to chance.
Liability disputes resulting from slips and falls on ice and snow are among the most common reasons for lawsuits. A slip-and-fall claim on your property will cost you approximately $20,000. But you can avoid expensive lawsuits by putting a plan in place. Apart from that, your employees, customers, assets, and building are secure.
You may ask, why do you need to prepare early for your snow removal?
You can make a thorough assessment of risks since there is no snow cover.
With planning, you secure suitable materials and equipment.
You have time to compare more quotes and find the best price. Plus, you'll have a plan to maintain ice and snow responsibly this winter. 
Let's dive deeper into preparing for winter 2021.
This Holiday Season Will Be Different than Last Year's
Access to vaccines is widespread throughout the country, and many of the Covid-19 restrictions lifted. Research suggests retail sales will rise 2.7% to $1.093 trillion in 2021. Meaning it's time for you to position your business at the forefront. 
Taking care of your clients shows you care. Your customers will like that you care about their well-being and want to safely transact with you if you clear the snow off the sidewalk and out of your parking lot. When you hire a snow removal company early on, you can advertise which days you will be open, regardless of the weather.
With Less Travel Restrictions, Airports & Hotels Will Need to Be Ready for an Increase in Travelers
The hospitality industry hibernates during the winter months. However, by winterizing your business, you ensure it stays active. Keep your occupancy rates high by ensuring the cleanliness, safety, and enticement of your facilities. 
Here is What You Can Do for Your Hotel:
Secure Walkways

—If you salt an icy sidewalk, you may eventually experience ice damage. The melted ice will freeze overnight, and the ice may become even worse the next day. Spread gravel or kitty litter to provide some grip as well if you choose to melt the ice.
Prepare Your Pool for Winter

—Your pool must be spotless before closing for the winter, and to prevent problems with frozen and cracked parts, drain all water from pumps, filters, and heaters.
Lawn Maintenance

—Be sure your lawn maintenance contractor prepares your lawn for cold weather. One way to prevent clogging is to trim all trees and clean any drains with leafy debris. During the last days of autumn, it's also an excellent time to aerate stressed lawns, so they have strong roots for winter. Check if the service plan includes

snow and ice removal material

to ensure a safe hotel exterior for your guests during the entire season.
What Can Airports Do?
Many airports experience a slowdown during heavy snowfall. The main reason is that all the different services at the airport depend on mobility, such as baggage handling, refueling trucks, catering, and cleaning. In winter, the weather can intensify this problem, causing flight delays and cancellations. Providing real-time flight status updates to mobile phones increases traveler satisfaction. 
Every aspect of airport operations is affected by winter weather, from a significant process like snow removal to a more minute one, such as wheelchair help—perhaps the most critical factor in keeping passengers informed.
Black Friday Will See Shoppers Return. Shopping Centers Will See More Traffic Than Last Year
CNBC reported that Bain, Deloitte, and MasterCard forecast that holiday sales will grow by at least 7% this year compared to the previous year. A Home Depot executive told CNBC that they sold out of early Halloween decorations, showing to financial experts that consumers are ready to spend money on decorations. 
Dick's Sporting Goods expects to have the largest sales representatives for the 2021 holiday shopping season. All these show how you need to prepare your business for customers who are eager to buy.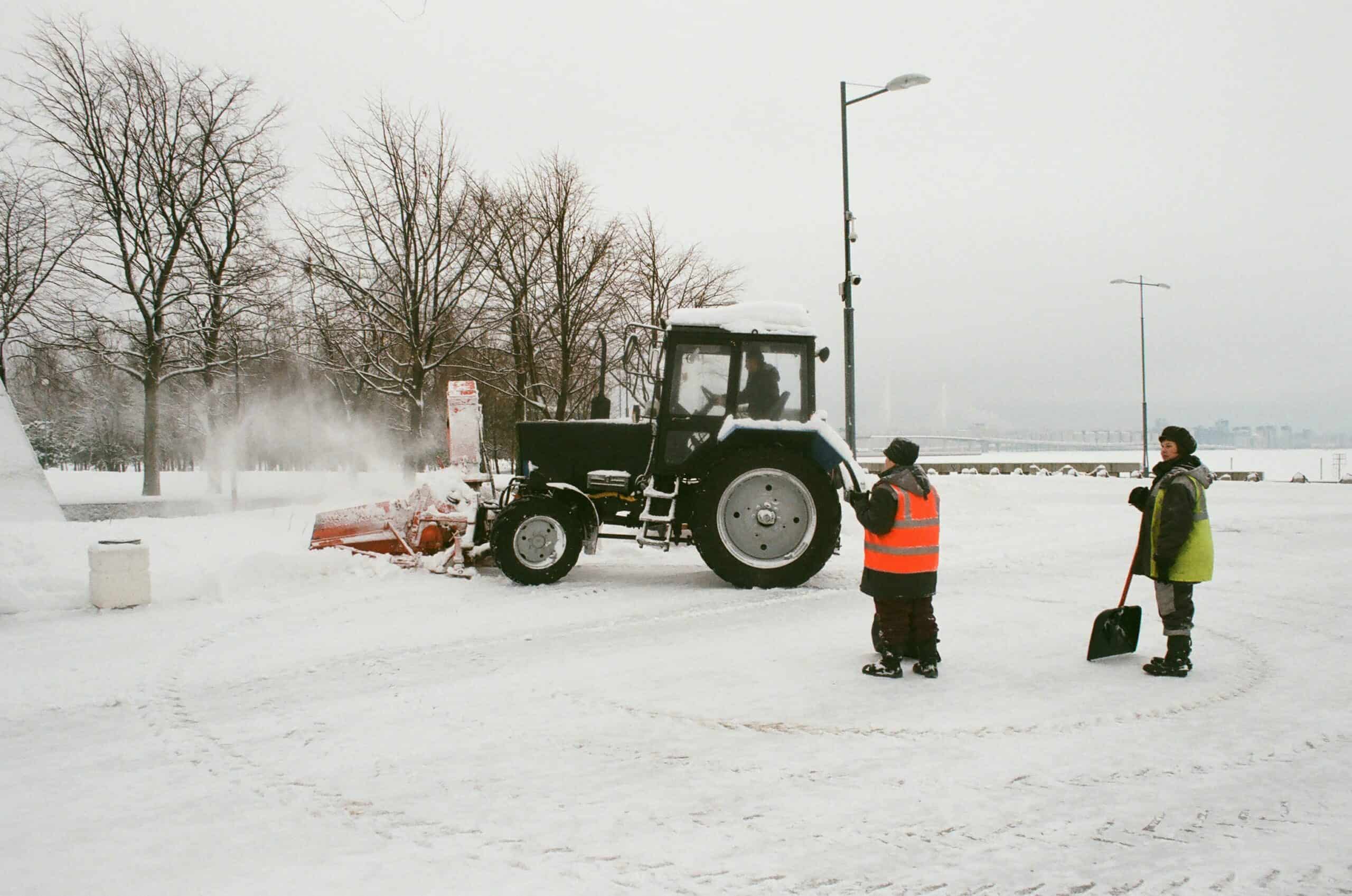 Parking Lots Will Need Lots of Love & Planning
Winter weather shouldn't shut down your business, whether it's a hotel, an office building, or a mall. Your clients should still reach you. So it would help if you had a snow-free parking lot for them. A study has shown 31% of winter falls happen in parking lots, while 21% occur on sidewalks. A further 25% of winter falls happen outside buildings. The winter weather damages your property besides causing personal injury to people. 
Winter temperatures can exceed freezing during the daytime, causing the pavement to freeze periodically and then thaw, eventually cracking. When the snow melts on the road, water enters the asphalt cracks, freezes, then expands, widening them. Your parking lot and sidewalks will last longer if you keep up with snow removal. If there is a lot of snow or ice accumulation, trim any branch on the tree that may fall on the building.
Don't Forget About Snow Removal for Your Access Ways & Walkways
Fresh snow is beautiful. However, business owners have more immediate concerns. Employees, customers, and suppliers need safe access after a storm hits. It's important to remove snow and ice early to reduce the risk of slips and injuries and communicate business continuity. Mark the pathways with stakes to make it easy to find them when there has been significant snow accumulation. 
Maintaining your business operations over the winter months requires commercial snow removal. Maintaining the parking lots, pedestrian walkways, driveways, and main entrances should be a priority. You can guarantee your customers and employees a clear path to your front door by maintaining a clear property. 
Property Management & Snow Removal Go Hand in Hand in Holiday Preparations
Ice and snow storms pose a challenge for property managers and owners. These storms can affect production and sales. Dealing with snow can be costly and challenging as well. Property owners and managers benefit from employing a seasonal snow clearing contractor. Think of the contract as insurance against bad weather.
During the warm months, snow contractors are planning for the upcoming winter. Property and facility managers have to plan for snow removal too. Ask yourself these questions before you hire a snow contractor:
Which service level should my property have?
Do I have a competitive snow contractor?
Are my snow removal contractors equipped to handle my property?
Among our services, you get timely snow removal and a clean-up to meet your property management standards. For commercial snow removal companies to provide the best service, they need enough time to prepare for the job. 
A snow plowing contractor and their customers both incur considerable costs through the snow removal process. The cost of labor and salt are two factors snow contractors need to plan for. An upcoming season requires estimation of and strategic forecasting of these items. The snowmen attempt to line up their snow contracts early to prepare for all the variables in snow removal.
It would be best for property managers to contract early so that the first snowstorm will coincide with the correct equipment, labor, and ice melting materials on-site. Considering how many visitors may visit your commercial property each week, having a solid and efficient snow and ice removal strategy is vital. You also enjoy your holidays, knowing we got you covered when winter arrives. 
Check Out this Handy Ice and Snow Removal Planning Checklist for Some Help
Businesses consider snow removal an emergency response service. By using a reactive snow removal strategy, they throw salt rocks and other damaging materials on top of snow and ice buildup to remove it. Each winter, the EPA estimates Americans apply over 20 million tons of sodium chloride to the roadways. Such an amount is highly hazardous to the environment.
Upgrading Your Property to Ensure a Better Customer Experience Shouldn't Wait
Customer safety is our priority. Using the above tips, you'll be on your way to creating a comprehensive commercial snow and ice removal plan that will protect your customers and premises this winter. 
Snow lovers look forward to winter each year. Outside, you will see happy children throwing snowballs while building a snowman. The joy of seeing snow comes with the challenge of removing it, especially on walkways and parking lots for everyone's safety. There is more benefit in finding a snow removal company for businesses with a large area to maintain.
Winter maintenance service is often a difficult choice to make, as you have many options available. Every company is different! If you choose which company to hire for your winter grounds maintenance needs, you are essentially choosing which "contract" works for your business. Therefore, you should be comfortable with the conditions specified in that contract. Contact us today for a complete snowman plan.