Remodeling your backyard increases your living space by giving you a more private outdoor escape, a suitable spot for your outdoor furniture and a place for family & friends to gather.
You have several options for improving the backyard. You can add:
A swimming pool
An attached or a floating deck
A patio
A hammock
A pergola
A built-in firepit
While some simple backyard projects are suitable for DIY enthusiasts, hiring a professional will make the job go quickly, help you achieve the look you want and allow you to focus on enjoying your new backyard.
Backyard Remodel Ideas
If you are looking for a backyard remodel idea that you can DIY, the list is endless. Some common and straightforward ideas to look into include installing a patio and putting in a deck.
With a bit of determination, simple skills and, if necessary, some professional help, you can save lots of money by installing one yourself. Before you start on the project, consider a few pointers.
Take into account the climate in which you live. Environment determines whether you'll need to dig past the frost line or not. Visit your local building department for any permitting required. They'll give you size limitations and site position for your deck or patio before you begin.
Remember to call 811 for clearance regarding any underground utilities before you start digging. Check local building codes to know what material you may use for foundations and any construction.
Consult our home remodel contractors in Boston MA if you're unsure about any step. You only need to tell them what your idea is and they'll guide you through the process.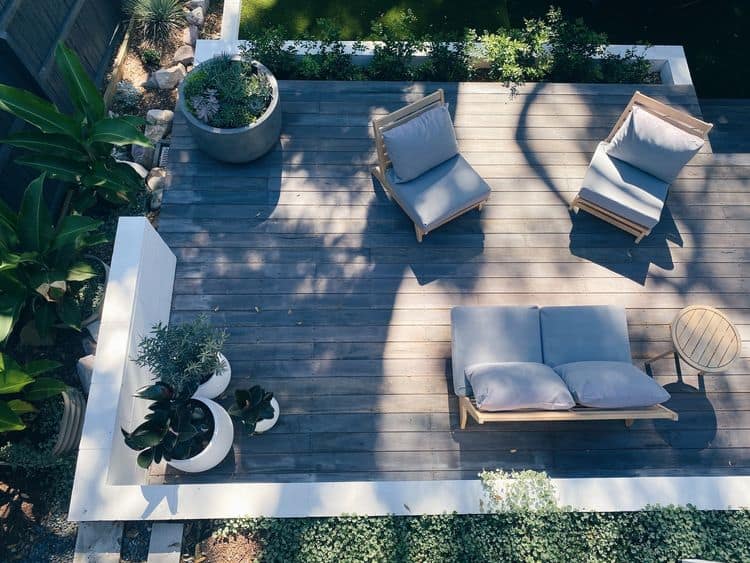 Deck Installation
First, think about the size, type and design of the deck. Do you want your deck attached to the house or would you prefer a floating deck? Do you want a ground-level deck or will you raise it high off the ground? Is it going to be one level or you'd prefer a multi-story deck? Which decking material will you use?
Here's a general outline of the process.
Measure the area and outline it using batter boards and strings
Make sure the corners are square by using the 3-4-5 method
Remove the sod (some people prefer to kill the grass with herbicides)
Lay your paver base
You may add a weed fabric sheet to keep the weeds down.
Build the foundation (deck support columns). A sturdy foundation is a key to building a long-lasting deck.
Frame out your deck. Use high-quality materials like pressure-treated timber and cedar.
Add your joists at appropriate intervals.
Apply flashing deck tape on the surfaces of the joists to prevent rotting.
When the skeleton (frame and joists) is ready, place your decking material of choice on top.
Your deck is ready for your outdoor furniture. You have several options for decking material, some naturally occurring, others synthetic. See options available in your local store or shop online.
Patio Installation
Installing a patio doesn't have to be complicated. If you're a DIY enthusiast, this can be a great project. However, you should make sure you are prepared for the heavy manual labor involved.
Decide on the material first. There are different pavers:
Brick
Poured concrete
Natural stone
Stamped concrete
Another important decision involves the design you want. You may go with:
Jack on jack
Running bond
Herringbone
Pinwheel
Decorative look (stamped pavers)
Decide on the size of the patio based on your family's needs or how much furniture you want to fit. Keep in mind that your patio needs to slope away from the house. It means you'll keep checking your slope with a level during the installation. A quick tip is to go for darker colored pavers as they fade over time.
The procedures above are simple if you have some building experience and are simply looking for guidance. However, when you're entirely new, you'll need a little more advice. Contact us for a quick consultation. You can also hire a remodeling contractor like us to take care of the entire process for you.